NWA 2965 (EL-melt rock)
[Al Haggounia 001]
Kłopoty klasyfikacyjne z tym meteorytem w artykule:
T. Bunch, J. Wittke, A. Irving, The Al Haggounia "Fossil or Paleo" Meteorite Problem.
Był klasyfikowany jako aubryt, chondryt enstatytowy EL3, ostatecznie został sklasyfikowany przez A.E.Rubina (Rubin 2016), jako EL-melt rock!
ep 1240.0g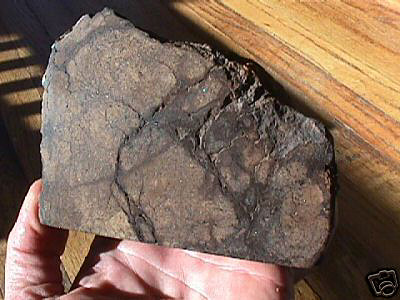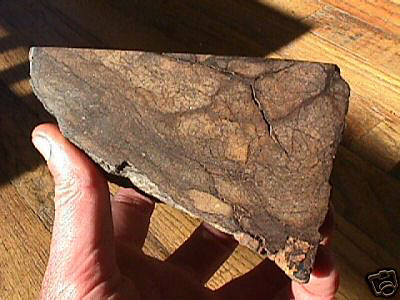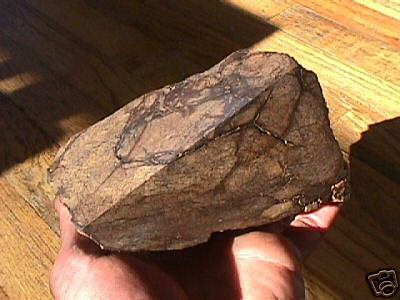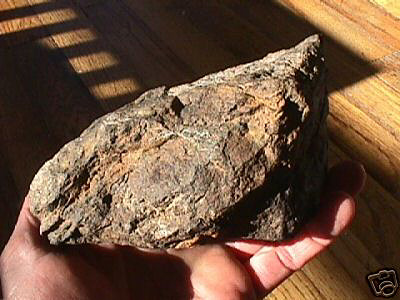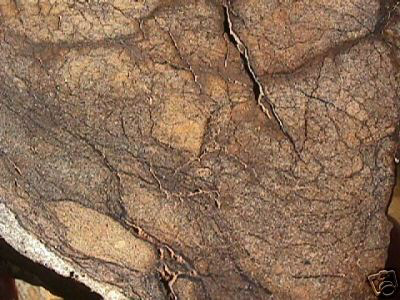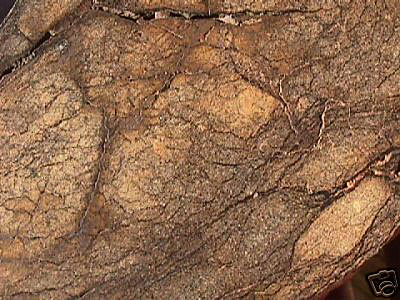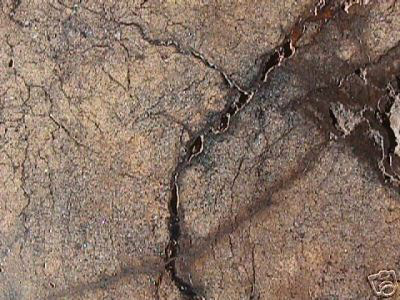 sc 97.65 g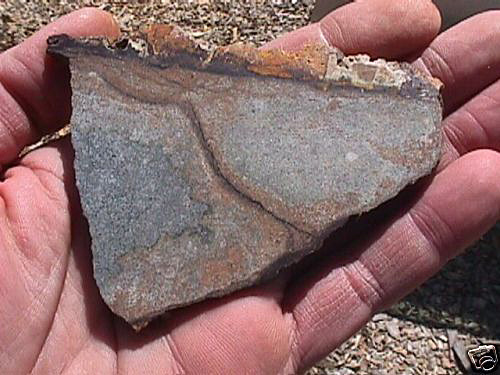 Name: NWA 2965
Location: Algeria
TKW: >100 kg
Find: Aug, 2005
Classification: stone, NWA 2965 (probably EL3)
[Al Haggounia 001], enstatite chondrite; W2-5

[MBD]

History: Hundreds of fragments that weigh >100 kg were collected in the Algerian desert in 2004. Small fragments (~100 g) are commonly weathered to a dark brown with very dark weathering veins. Large pieces may retain portions of weathered fusion crust with only moderate to lightly weathered interiors.
Physical characteristics: .
Petrography: (T. Bunch and J. Wittke. NAU) A completely recrystallized enstatite chondrite with polygonal to irregular grain outlines. The grain size varies from 0.02 mm to 0.7 mm. Round, curved, blocky objects contain coarser-grained orthopyroxene than in the matrix. No relict chondrules, sensu stricto, were observed in ~32 cm2 that were analyzed. Metal, daubreelite, and tiny, vermicular grains of graphite are also present and constitute <3 vol%.
Geochemistry: Orthopyroxene (Fs98.4±0.02), plagioclase (An17.8Or4.4), troilite with Ti=0.91, Cr=1.10, Zn=0.6 (all wt. %).
Classification: Enstatite Chondrite EL 6/7. It has absolutely no evidence of chondrules. Low-level shock, the weathering grade ranges from W2-W5.
Type specimen: A 24 g sample is on deposit at NAU. Turecki/Reed hold the main mass.

Fotografie mikroskopowe NWA 2965 na stronach Johna Kashuby. Znane są tylko 2 meteoryty tego typu, drugi to Happy Canyon.