Mrs. Alfreda wakes up every day around 6 am gets up and makes coffee, lights a cigarette. 30 April 2011 was exactly the same.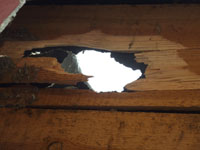 The account is as follows:
"I always get up at 6 am. I brewed coffee, lit a cigarette and opened the kitchen to get rid of the cigarette smoke. All of the sudden I heard something, but I did not know what it was. There was a whistle, such as dropping bomb sound, and then there was a big bang. Actually, it was a long rumble. My son Marcin was in the bathroom and he also heard it despite the closed door. We ran out of the house, Marcin in one sock only. We thought that the house was falling apart (We had just changing the covering of the roof – from heavy tiles to lightweight steel tiles). Everything seemed to be alright but there was a hole in the roof over the shed doors. Then we saw broken roof tiles lying on the ground and a large piece of broken tile was hanging over the edge of the roof."
"Marcin said that maybe some bird dropped something. I said: what kind of bird could do that? We looked at the sky, because aero planes fly very often over our area. Maybe one or someone dropped something? But there were no planes visible at this moment. The sky was cloudless, but the sun shone buy not yet brightly."
"Five meters from the hole, on a pile of planks we saw a black stone. I picked it up. It was not as cold as any other stone. It was different, maybe a little warmer. I held it for a while and lay it on the ground. I was going to throw it away, but laid it down instead. We returned home and I looked at my watch, it was 6.06. In the courtyard we had spent no more than 3 minutes."
"Then I went to visit my daughter Anita in Giżycko. She immediately said: Mom, this is a meteorite. Then I remembered how the week before I had watched a film about meteorites with a long haired guy (probably Robert Haag) on The Discovery Channel. We returned to the impact site. Fragments were scattered over a 4–5 meters area. Pieces were lying on the step under the hole in the roof. We picked them up. The remains were gathered later by my daughter and her fiance (husband). We took all the stones home and considered what we should do."
Mrs. Alfreda, a sensible and consciously minded person, shared with us another strange remark:
"Once, my dad always came to see my husband and at six in the morning they would have a cup of coffee together. I do not get up so early! My father had died in June and my husband survived him by a year. I thought that this meteorite might be a sign. Maybe in heaven they drank coffee together and something has fallen?"
Mrs. Alfreda, her daughter and future son-in-law were searching the area behind the shed for more stones did not find any. Mrs. Alfreda phoned a local newspaper, which in turn informed Mr. Roman Rzepka who is interested in meteorites. The next morning, Mr. Rzepka and his wife visited Mrs. Alfreda and confirmed suspicions of her daughter, that the stone was a meteorite. Mr. Rzepka passed this information to Mr. Andrzej Pilski from an observatory in Frombork. This was when Andrzej told us about it.